There's no reason why tea should be taken seriously...seriously. Tea Hee Hee is a tea brand with a sense of humor. Each tag comes with a joke, pun, or just a little something to make you smile. And if that doesn't do it for you, we also use mood enhancing herbs to help make your day a little brighter, so maybe then you'll appreciate our jokes!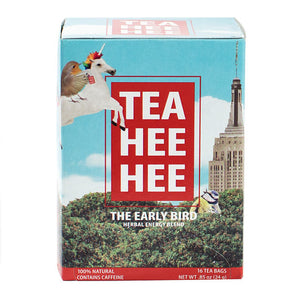 THE EARLY BIRD
The Early Bird is our daytime blend that will help to energize you while kicking your bad breath's a** (yes, it actually has herbs in there that promote fresher breath). This way you don't have to be that person everyone is secretly holding their breath around while you're talking.
7.99 + FREE SHIPPING
SHOP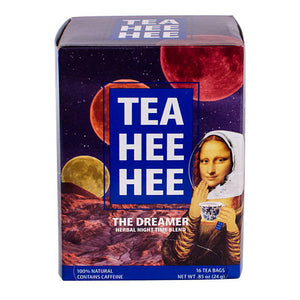 THE DREAMER
Do you or someone you know need to chill the F out? Just make a fresh cup of The Dreamer and ta-da! Problem solved. The Dreamer is our night time blend and herbal mixture to support relaxation and sleep.
7.99 + FREE SHIPPING
SHOP
Every year Tea Hee Hee hosts a tea tag challenge, where you have a chance to be featured on the next round of tea tags...so if you think you're funny go ahead and enter your best tea jokes and puns!
Enter Now